This is my first year participating in the Puget Sound LYS Tour, my aunt and partner in crafty crime found it and suggested that we give it a whirl. I am so glad that she did because it was a ton of fun and I discovered some amazing yarn shops next to places that I visited regularly anyway.
I'll be listing the shops we visited in the order we visited them in, a quick description of the shop (with pictures), and any purchases I made in that shop. I will be doing a separate blog post about some helpful tips and tricks for making your Yarn Shop Tour a success.
Let's get started!
I didn't actually find this event, the credit goes to my Aunt and crochet buddy Melinda. She is the creative force behind All In The Stitches (her etsy shop is here) and you will see her pop up from time to time in my photos and my social media (give us both a follow if you haven't already). Honestly it was way more fun to have a buddy along, it allowed for someone to look up addresses and drive while the other person sorted and organized the patterns, cards, yarn, and buttons that we got at each shop. This really helped us maximize our time. I just finished a detailed Meet The Maker blog post all about Melinda here if you would like to learn more about her.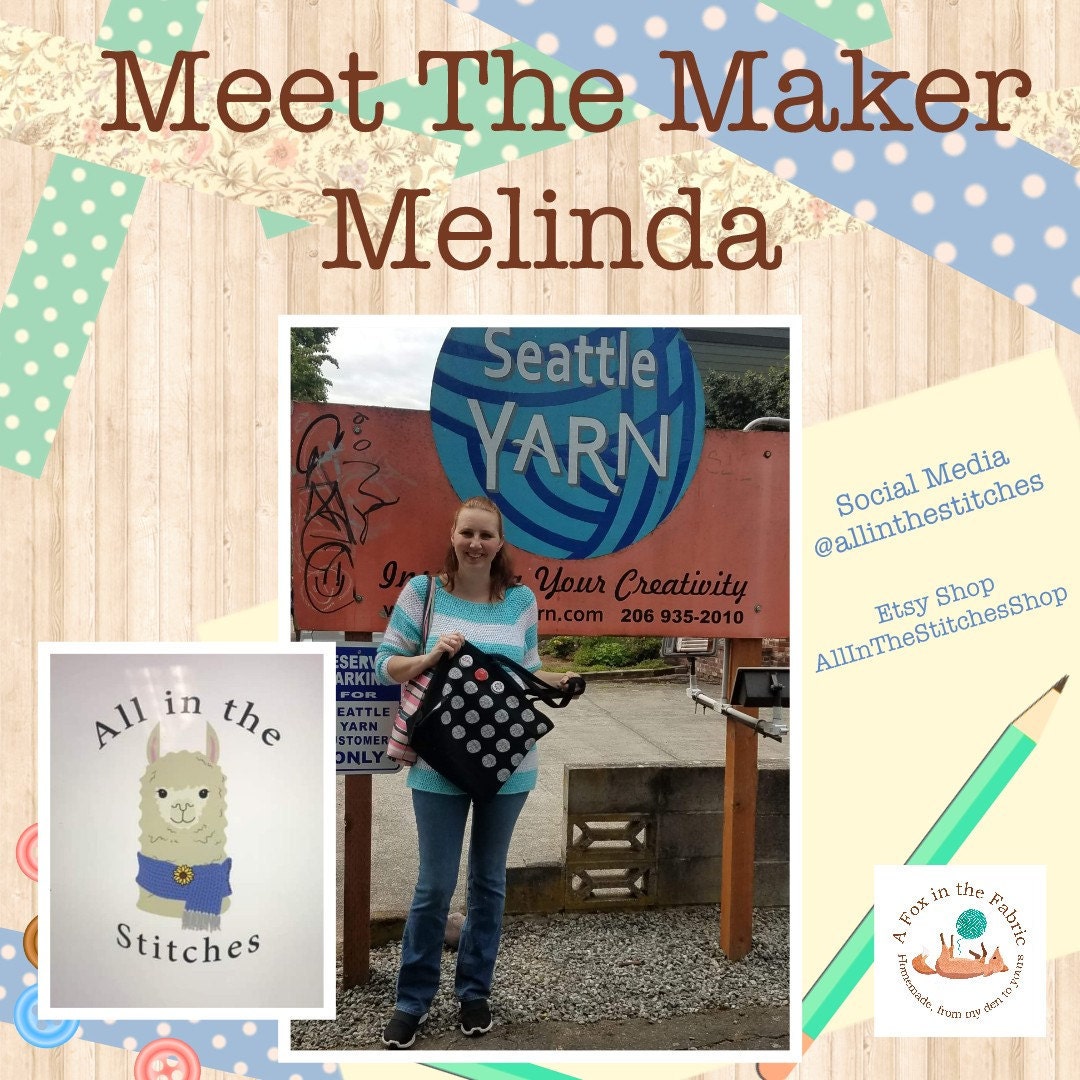 The Puget Sound LYS (Local Yarn Shop) Tour is an annual event organized by a group of yarn shops located in the Seattle WA area. This year marked the 14th year of the tour, there were 24 participating shops, all of which were considered veterans of the Tour (meaning they have participated at least once before, many had been involved since the tour began).
Details about the tour are available in the Tour Passport. These passports are available at each of the tour stops or you can print one yourself from the LYS website ( www.lystour.com ). You can visit the shops in any order, and you don't have to visit them all, my partner and I only managed 10 out of the 24 shops this year. The participating shops have extended hours during the tour (Wednesday through Saturday 10 am to 8 PM and Sunday 10 am to 6 pm). These extended hours really helped us hit as many as possible in one day since several of the shops we visited are normally closed on Sunday.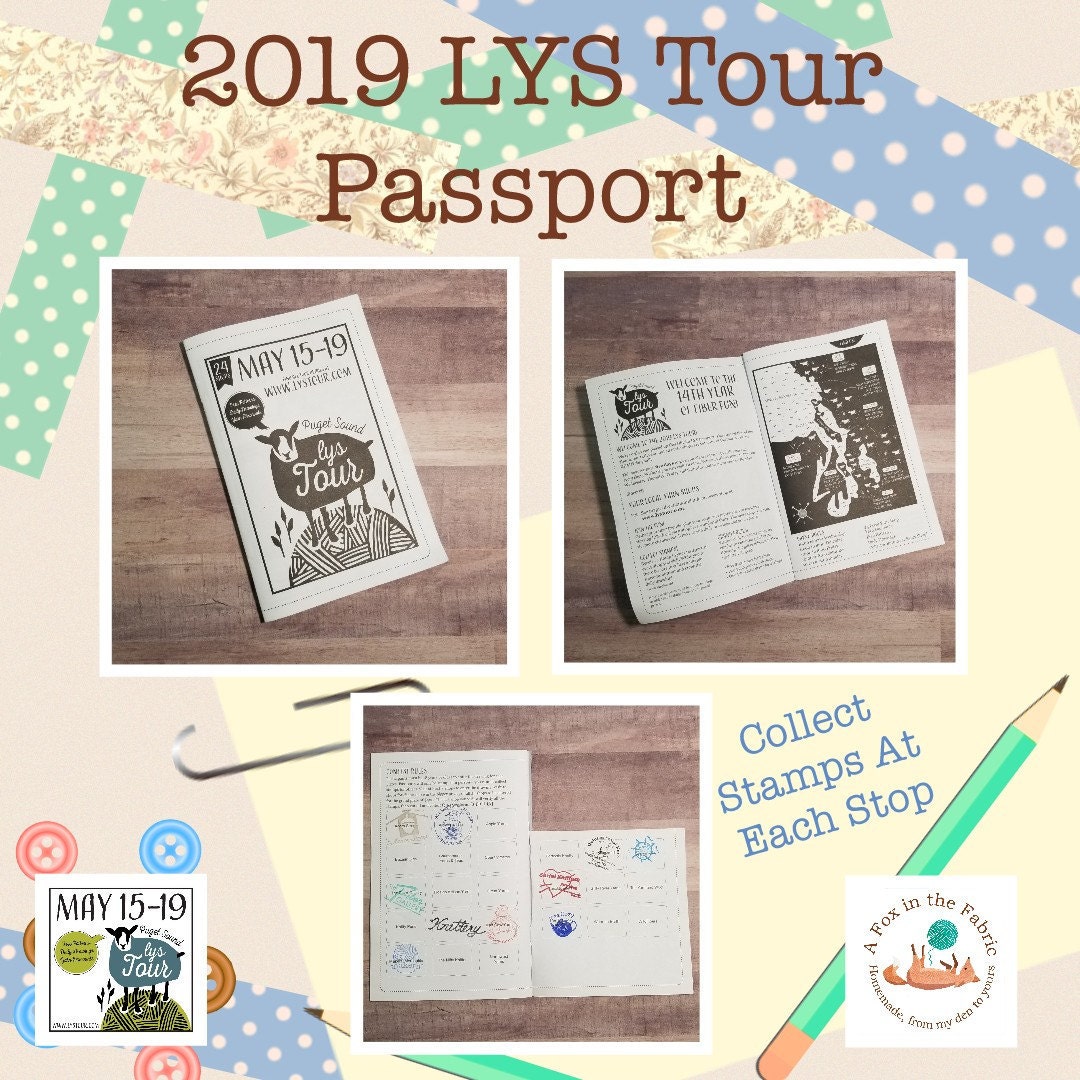 Each shop you visit will stamp your passport and give you a souvenir button (while supplies last). These buttons are super cute and unique to each shop. I ended up purchasing the exclusive tour tote bag which is designed to display the buttons and attaching them in the order of the shops I visited. The tote bag is the perfect size for a project bag, and was also really useful to have on the tour. I used it to carry my new yarn, tour binder, pen, and business cards (for a more details on what to bring with you for the tour see my next blog post).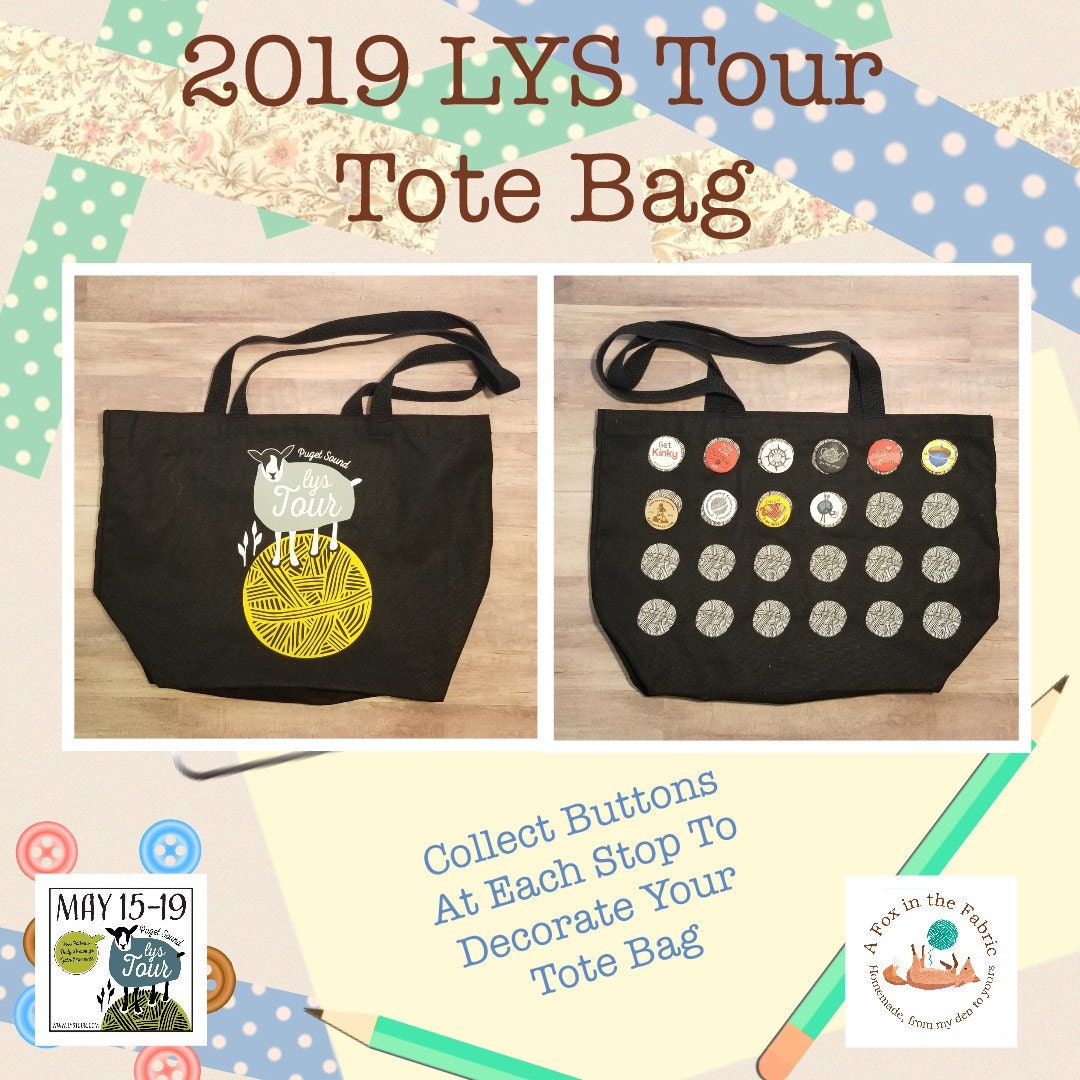 You will also receive an exclusive free knit or crochet pattern from each shop on the tour. These patterns are making their debut on the tour and the yarn for these patterns are offered at a discount during the tour (this year the yarn supporting each pattern was 10% off).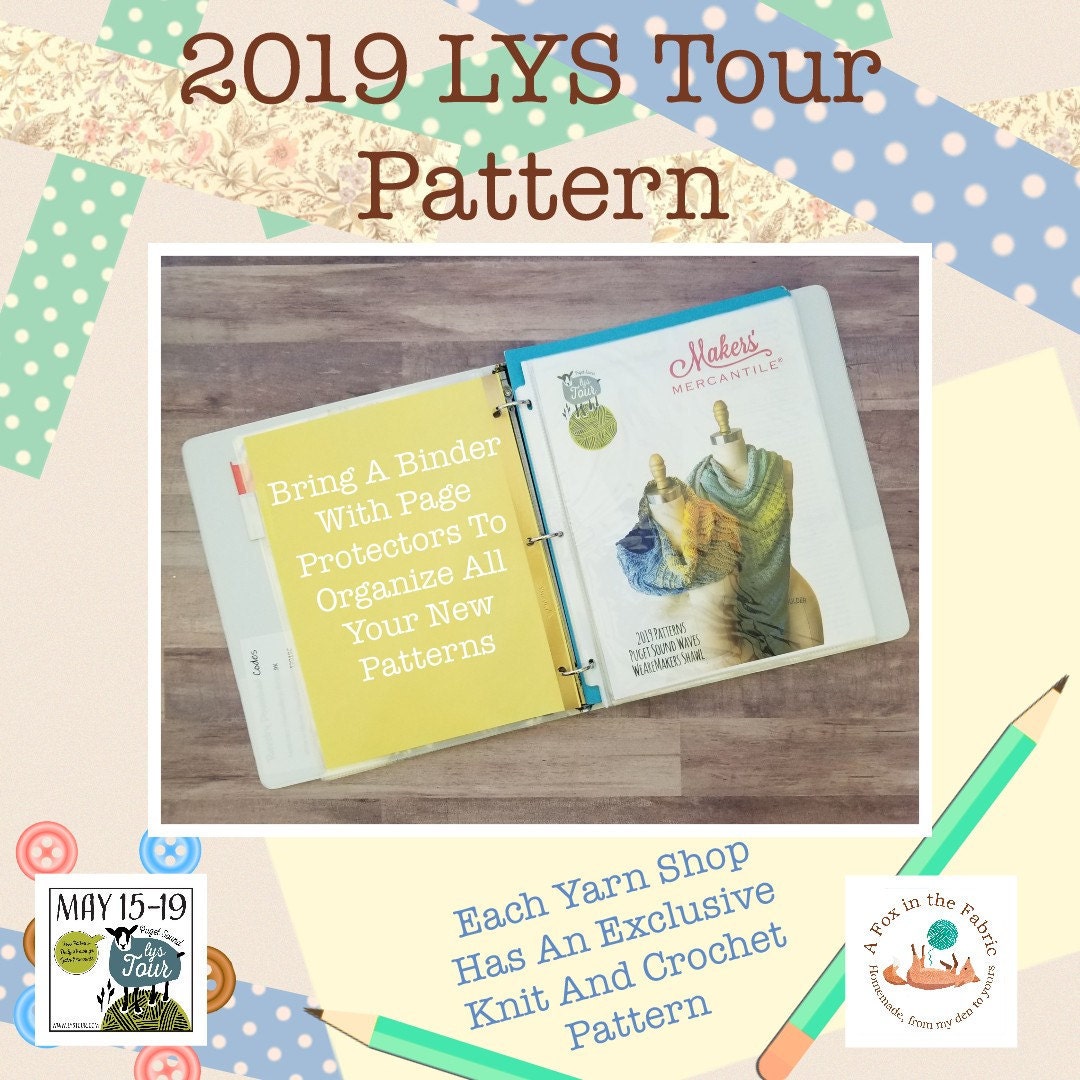 Each shop also has you sign up for a daily drawing, the prize for these daily drawings is a tote bag full of yarn goodies valued at around $150.
Many of the shops also had special guests, yarns, and events going on during the tour. Several of the shops I stopped at had "trunk shows" going on, where local artisans were selling their yarns and patterns (all of which were gorgeous). I also got to watch several people spinning wool fibers into yarn, it is an amazing process to watch.
In addition to the daily drawing prizes there are prizes based on the number of shops you collect stamps from.
This years prizes looked like this:
For 8 stamps you are entered into a drawing for one of five $100 gift certificates for a participating yarn shop of your choice.
For 16 stamps you are entered into a drawing for one of two $250 gift certificates for a participating yarn shop of your choice.
For 24 stamps you are entered into a drawing for the grand prize of a $500 gift certificate that can be split between 3 participating yarn shops of your choice.
The route that we took for the tour was based on our starting location and the time restrictions we were under, it may not work for everybody but we will be using it to help better plan our route for next year. I did end up buying yarn at a couple of the shops, and I'll mention that in my shop overview, but since I bought some really uncommon fiber blends, I'll also be doing some additional blog posts about each of the yarns. We tried to backtrack as little as possible with
Makers Mercantile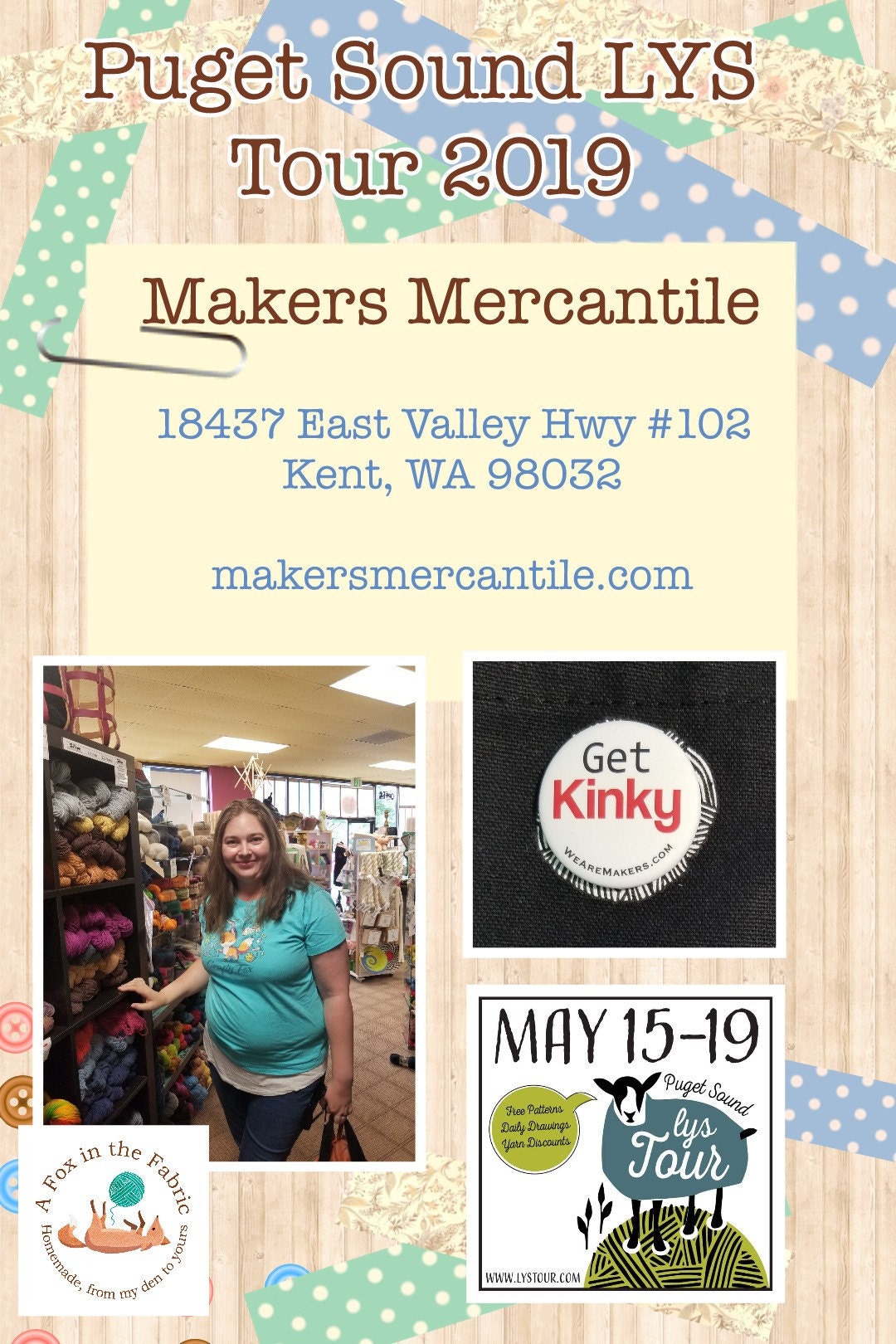 This was our first stop on the tour, and it's really conveniently located for me since I often shop at Great Wall and IKEA when we visit the Seattle area. The atmosphere in here was amazing, it was bright, well organized, and had an amazing selection of yarn. Plus they had a large selection of yarn and craft related gifts and accessories. I did end up buying some really cool yarn made of a cotton and abaca pulp blend that I have big plans for. This particular yarn will be getting a full blog post later on because the fiber content is so cool.
Makers Mercantile also has a coffee shop located near the back of the shop, which really helps with the atmosphere, who doesn't love the smells of yarn and coffee? The staff at the coffee counter and the yarn shop were friendly and willing to answer questions.
For more information on Makers Mercantile visit their website makersmercantile.com
The Knittery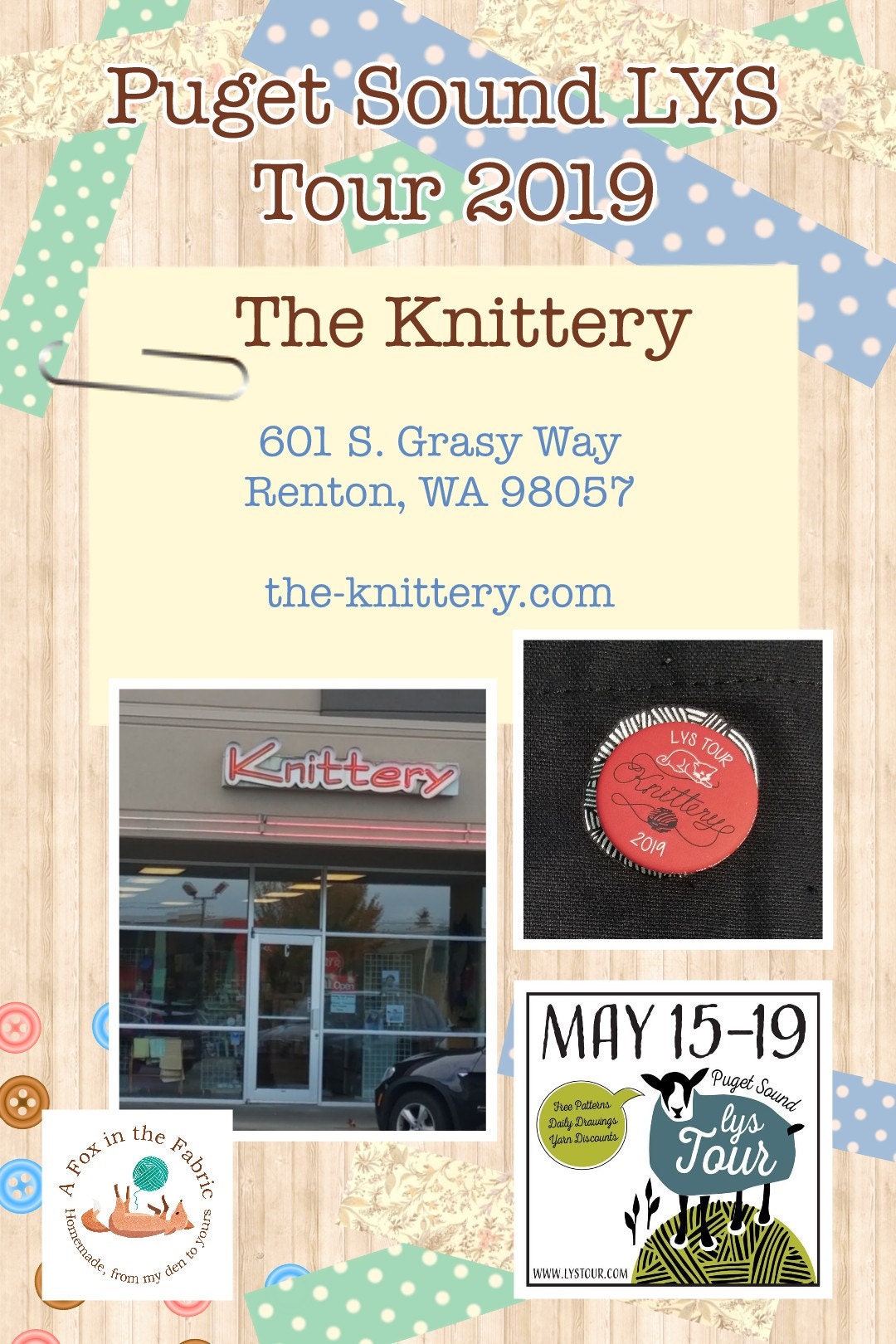 This shop was so beautiful inside, the yarn was organized on glass shelves that made it feel so light and airy. They had seating in the back near a large selection of patterns and books. The staff was super friendly and quick to answer questions.
For more information on The Knittery visit their website the-knittery.com
Seattle Yarn
This was one of the most quirky of the yarn shops we visited, and I loved it. There are beautiful painted murals around the top of the shop, my favorite is the one representing the Chinese Zodiac Animals. They also had fun yarn and fiber facts posted around the shop (I am such a sucker for fiber related trivia, I even did a blog post with some fun trivia here).
They also had 2 yarn trunk shows going on while we were there, plus there was a group of people knitting and spinning in the back part of  shop. The yarn selection was beautiful and well organized and the staff was very friendly. In addition to amazing yarn, they had a ton of yarn related gifts and accessories available. I ended up buying some adorable fox buttons that you'll see later on.
For more information on Seattle Yarn visit their website seattleyarn.com 
The Tea Cozy Yarn Shop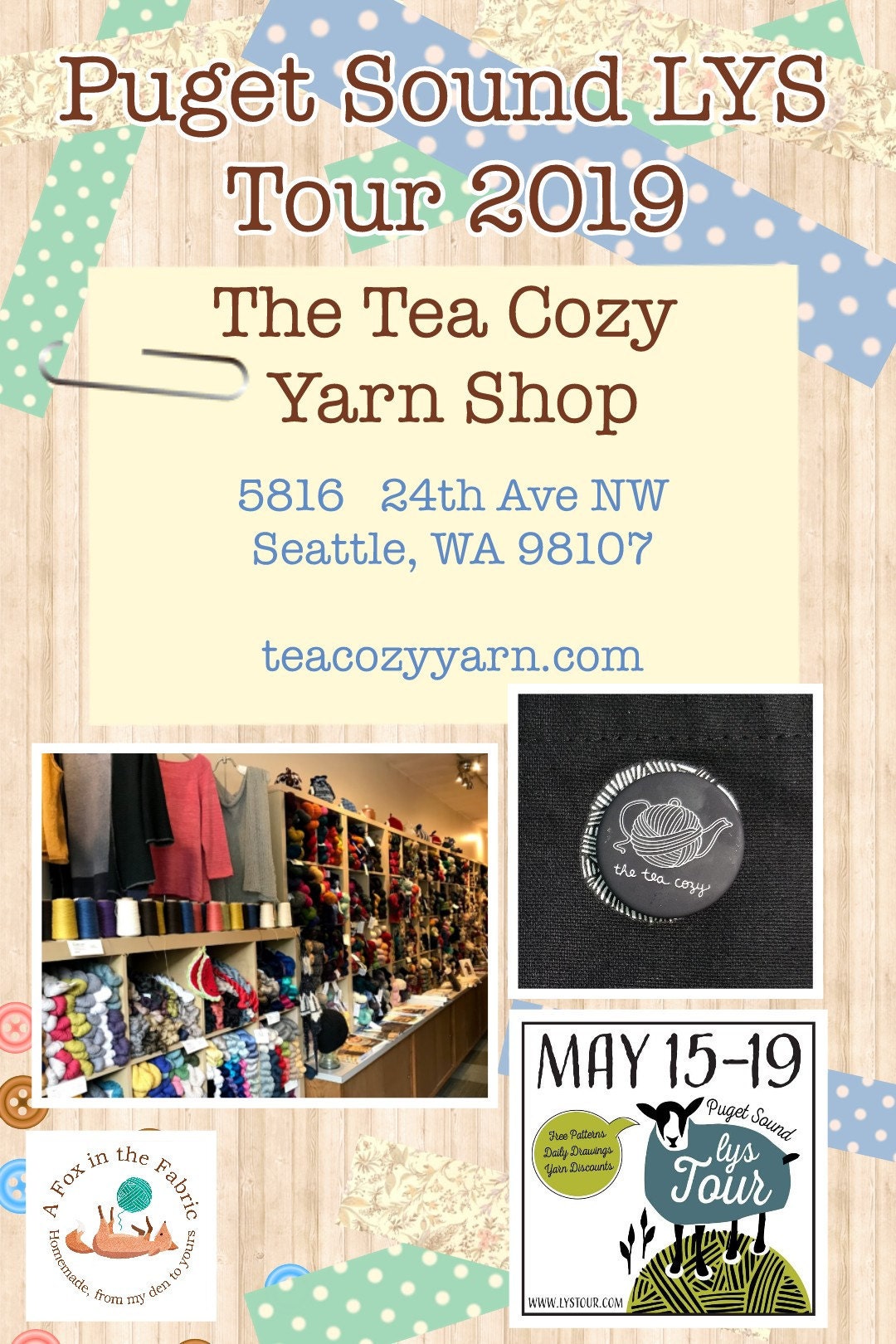 The Tea Cozy Yarn Shop is in a really neat location, it's in an area of Seattle that I hadn't really been in before. There are tons of smaller shops in the area, and an amazing burger place next door (where we got lunch). The yarn shop has a large selection of wool yarn as well as some beautiful alpaca blends. They were also having a yarn trunk show while we visited. The staff was very friendly and you could really see how much they cared about their customers.
For more information on The Tea Cozy Yarn Shop visit their website teacozyyarn.com 
The Fiber Gallery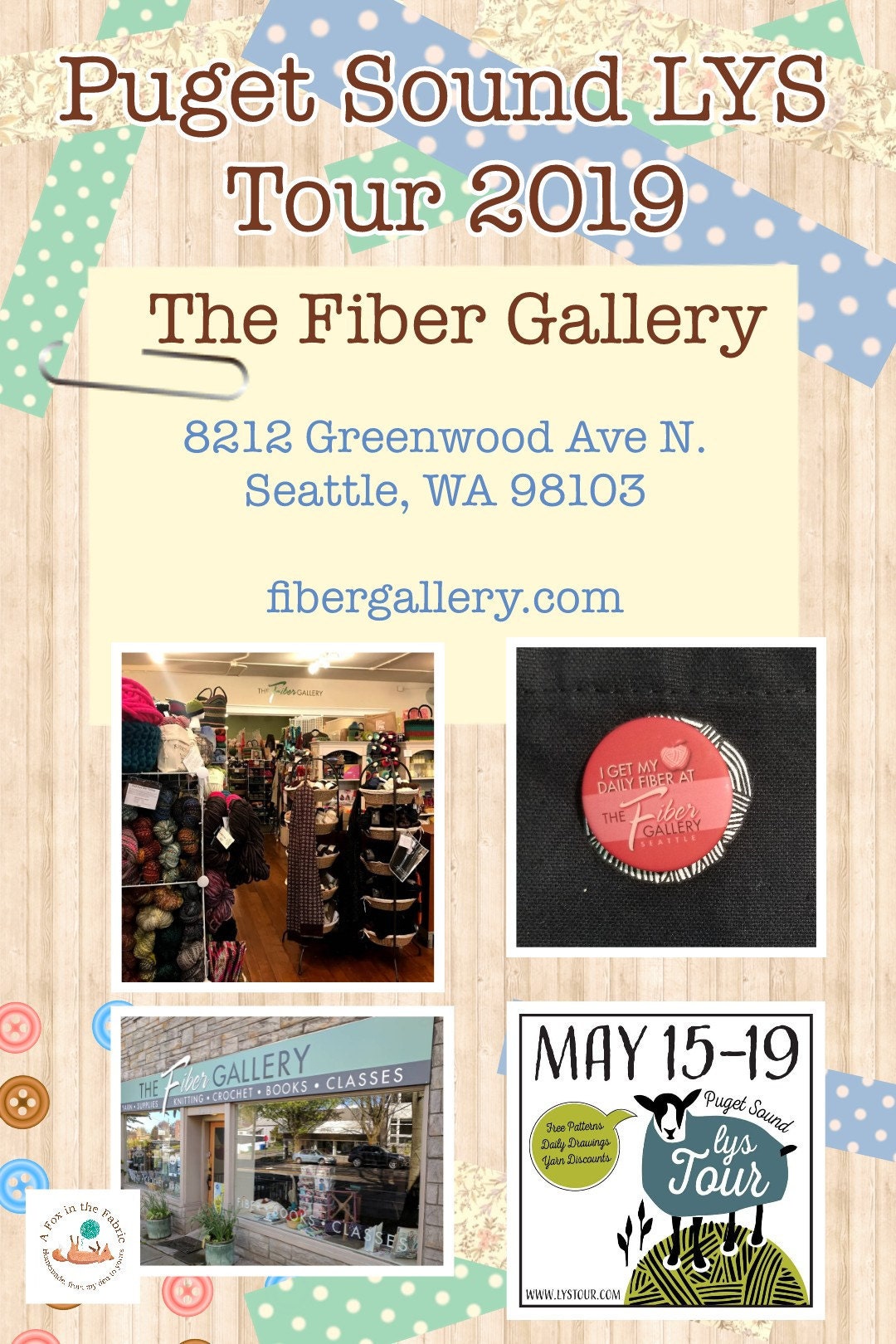 The Fiber Gallery was our 5th stop on the tour. They had a large selection of wool that was very well organized. They also have a large selection of fun fiber related gifts and accessories.
For more information on The Fiber Gallery visit their website fibergallery.com
Acorn Street Shop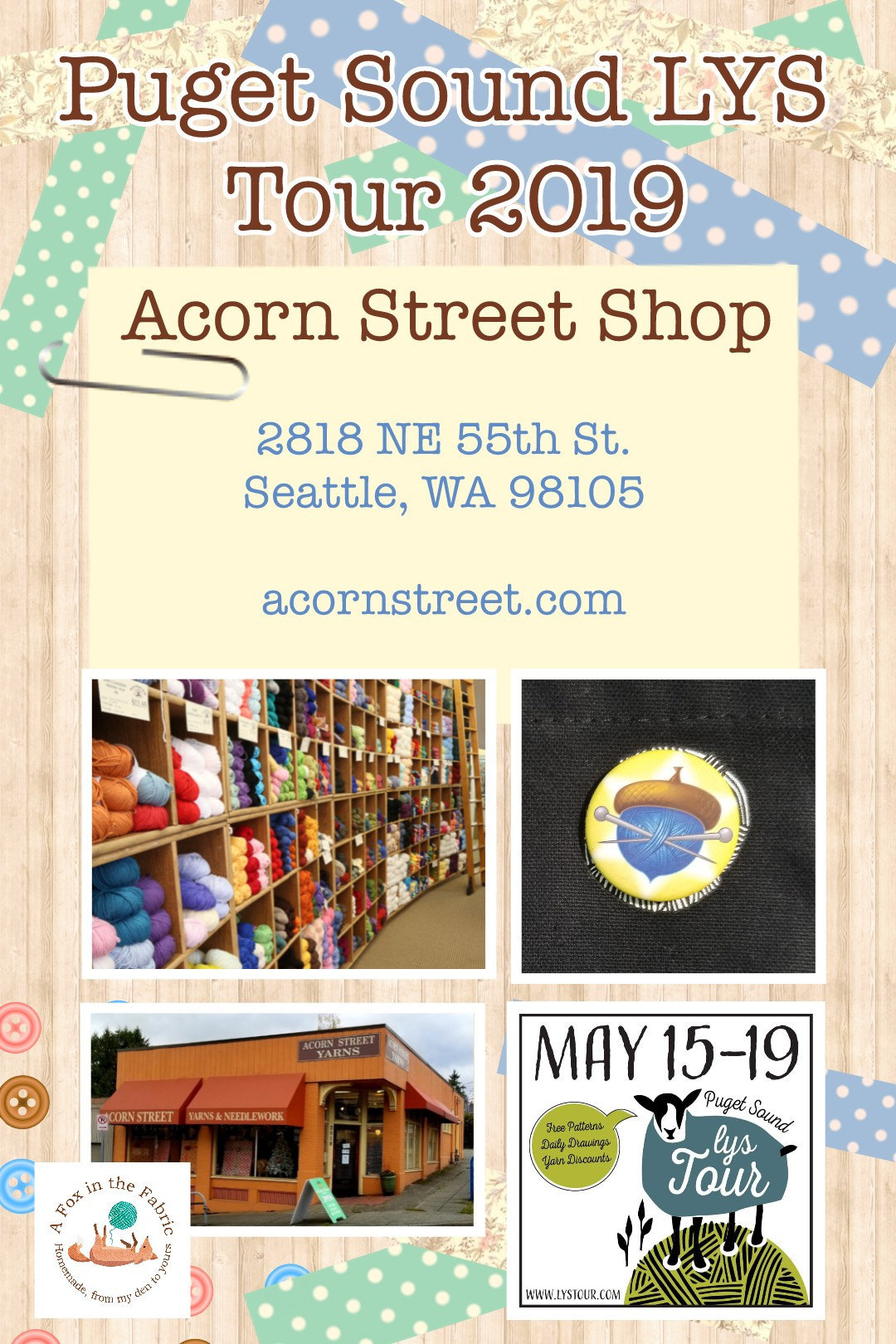 Yarn Wall! If you follow me on social media (any platform @afoxinthefabric) then you'll know that I just created my own yarn wall at home. It's pretty impressive, but my yarn wall has nothing on the amazing yarn wall at Acorn Street Shop. Pair that with the friendly staff and the vast assortment of yarns and books and this place is on my list to visit again before next year.
For more information on Acorn Street Shop visit their website acornstreet.com
Mad Cow Yarn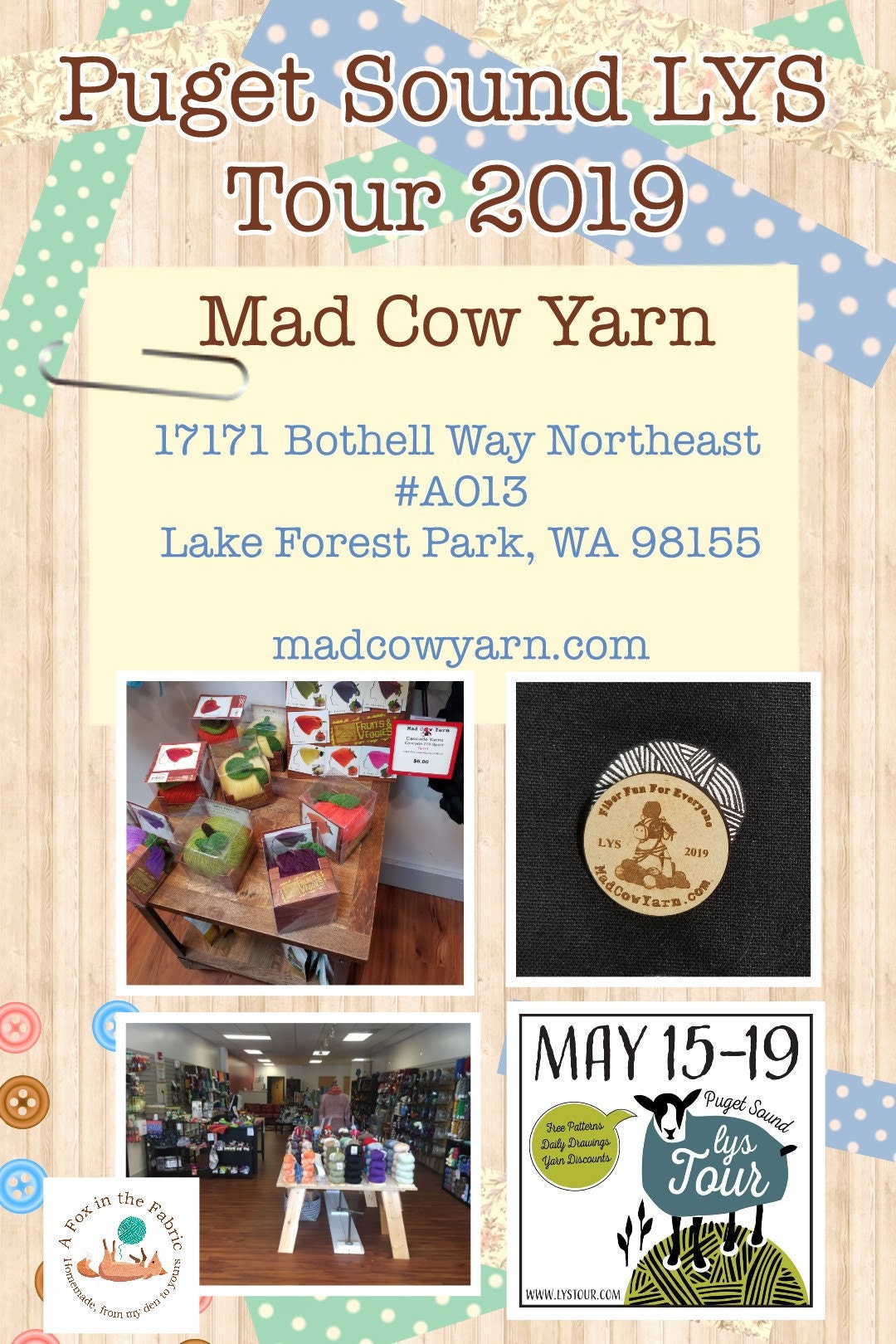 This is one of the shops that I found some yarn that had to come home with me (and it'll have it's own write up later on). The staff was super friendly and really helpful, there was someone spinning wool and when she offered to show me how I had to decline explaining my wool allergy and showing her my hands (which were a wee bit red and irritated from touching wool all day). That one comment had the shop owner devoting several minutes to showing me the wool free yarns they had plus recommending another yarn shop that was 100% wool free in the area. That attention to their clients as well as the incredible atmosphere makes that someplace I am going to be coming back to visit. Add in the amazing fiber art on the walls, group of knitters in the corner, and amazing yarn kits and this place is amazing.
For more information on Mad Cow Yarn visit their website madcowyarn.com
All Wound Up Yarn Shop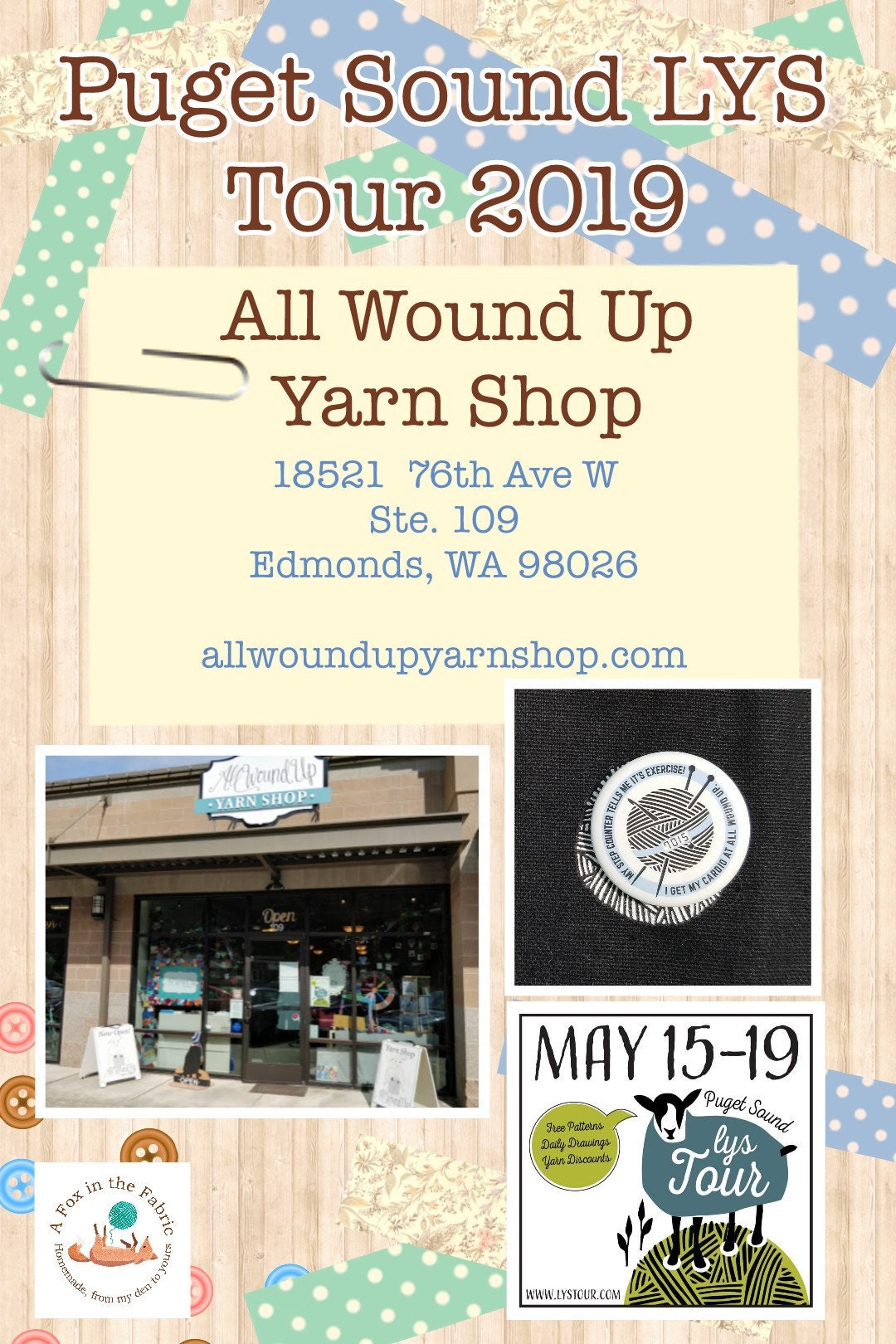 The lightning and displays of fiber art in this shop were stunning, and really highlighted the beauty of knitted and crocheted pieces. They have a really impressive collection of wool and sock weight yarn. The shop is also set up perfectly for events and stitch socials.
For more information on All Wound Up Yarn Shop visit their website allwoundupyarnshop.com 
Serial Knitters Yarn Shop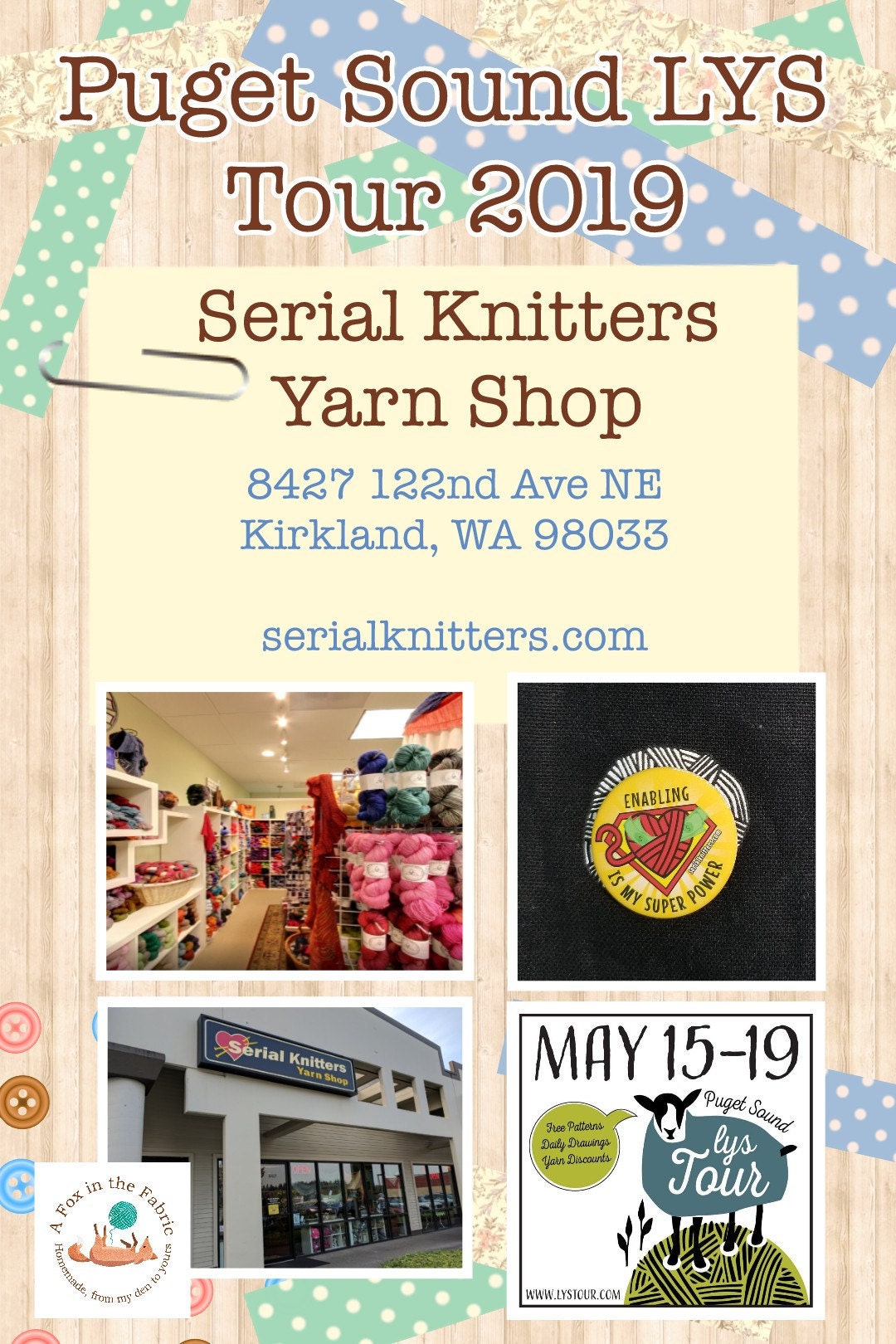 We probably spent the longest in this shop during our afternoon rush. There were so many fun yarns with new textures and fiber blends that I almost didn't manage to leave without a huge pile of yarn. I know my tour buddy brought home some yarn from here. The shop is large and full of yarn, kits, and complete fiber projects. The staff was really friendly,  and knowledgeable about their crafts. Plus they had a wall of books, which is easily one of my favorite things in the world. I'll be making more trips here for sure.
For more information on Serial Knitters Yarn Shop visit their website serialknitters.com
Quintessential Knits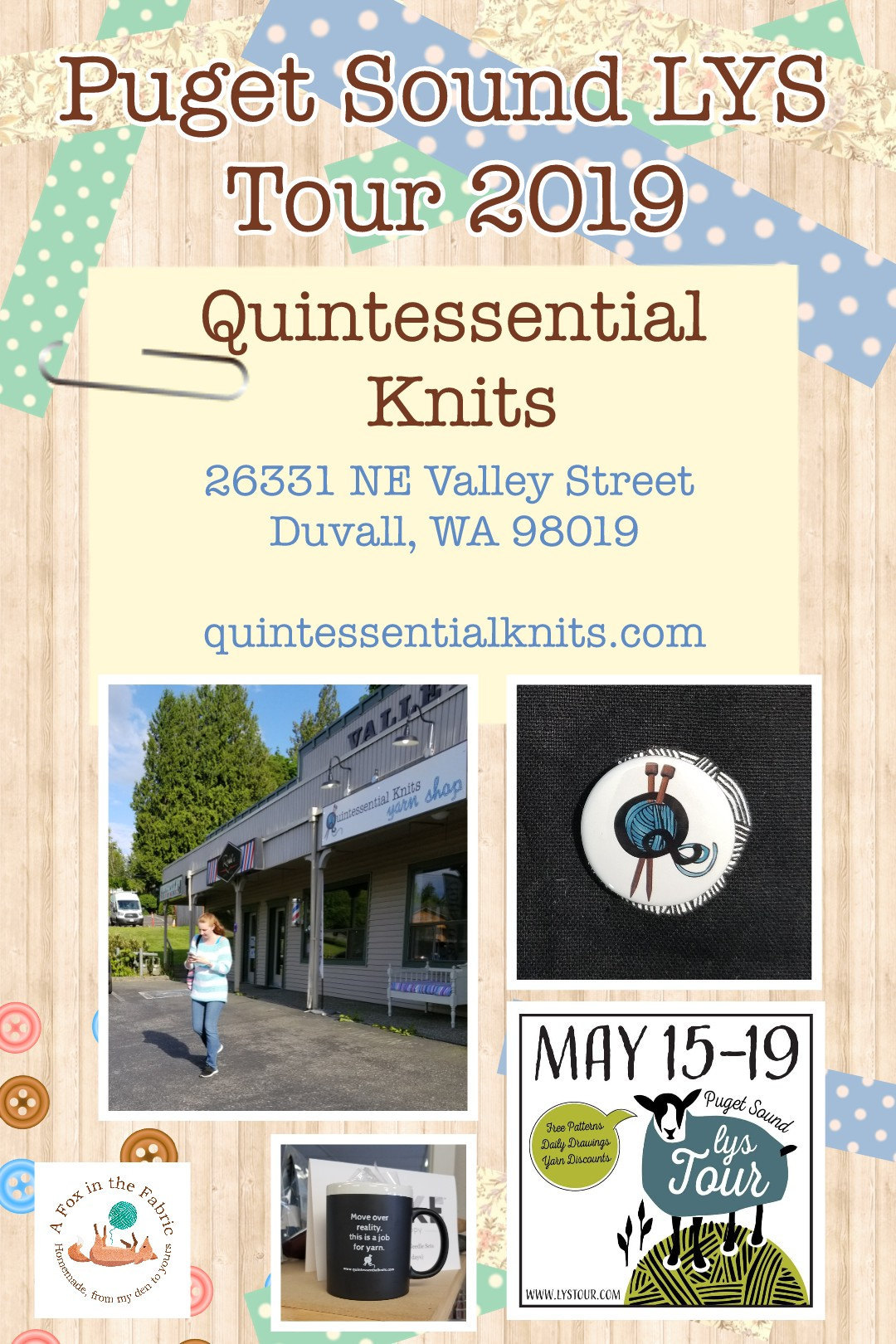 This was our final stop on the tour, and well worth the wait. I fell in love with the free crochet pattern they had, and best of all the yarn it called for was wool free! Of course I had to buy some, and I'm making it for me this time. This shop was full of wool free blends (they also of course had wool yarn) some of which I hadn't heard of before. I even found a soy based yarn that had to come home with me. The staff was great and the shop was very well organized, plus they had a great couch area set up for people to come knit or crochet.
For more information on Quintessential Knits visit their website quintessentialknits.com 
We made two stops for food on our Puget Sound LYS tour, We stopped for lunch after The Tea Cozy Yarn Shop and then we stopped for dinner after Quintessential Knits before heading home. While the meals are the least exciting part of the trip they are worth noting for future trips.
Scooters Burgers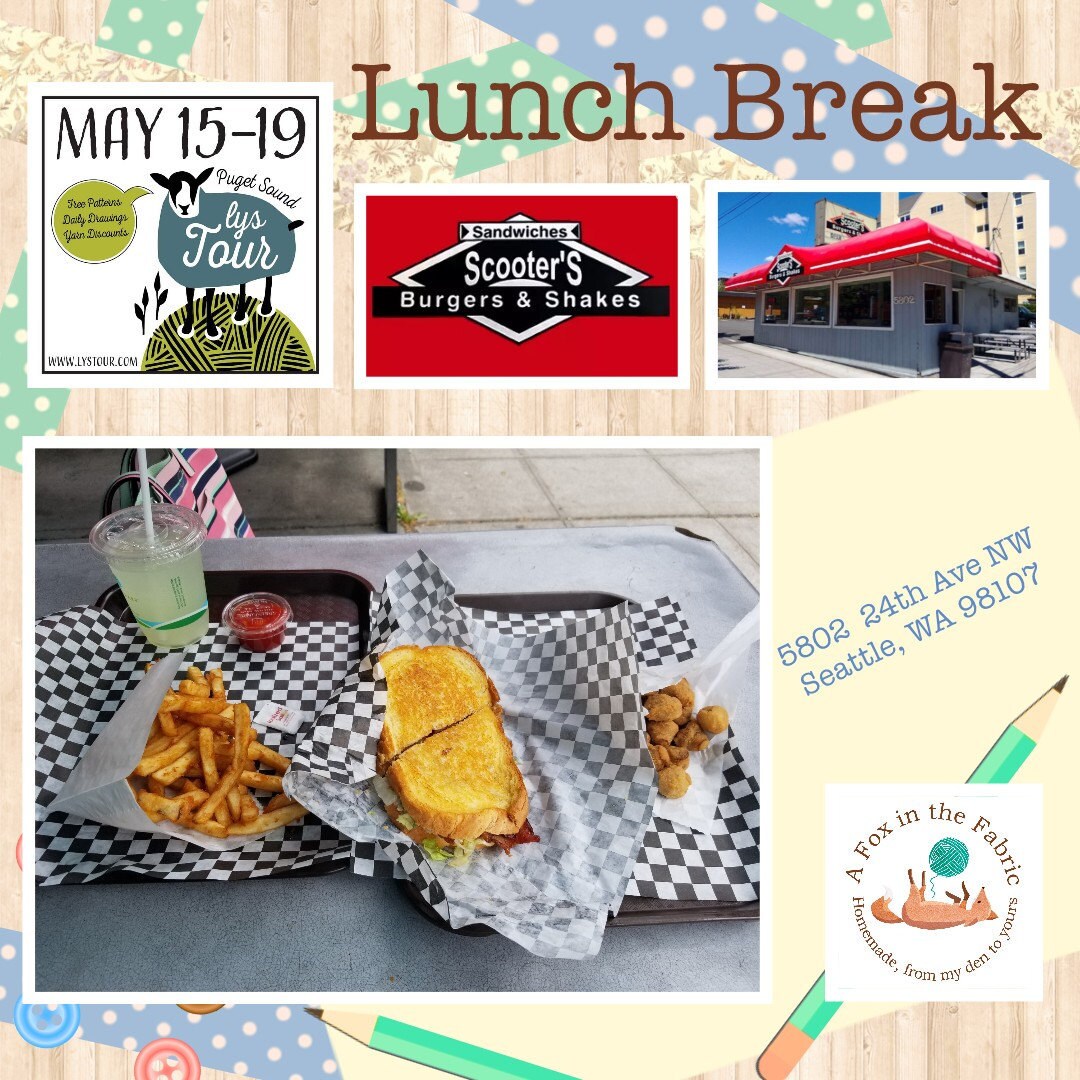 Scooters Burger's was our lunch break, its conveniently located right down the block from The Tea Cozy Yarn Shop. The service is super fast, the prices are really reasonable, and the food is super yummy. We ended up splitting a BLT, fries, and deep fried mushrooms and we were both full afterward.
IKEA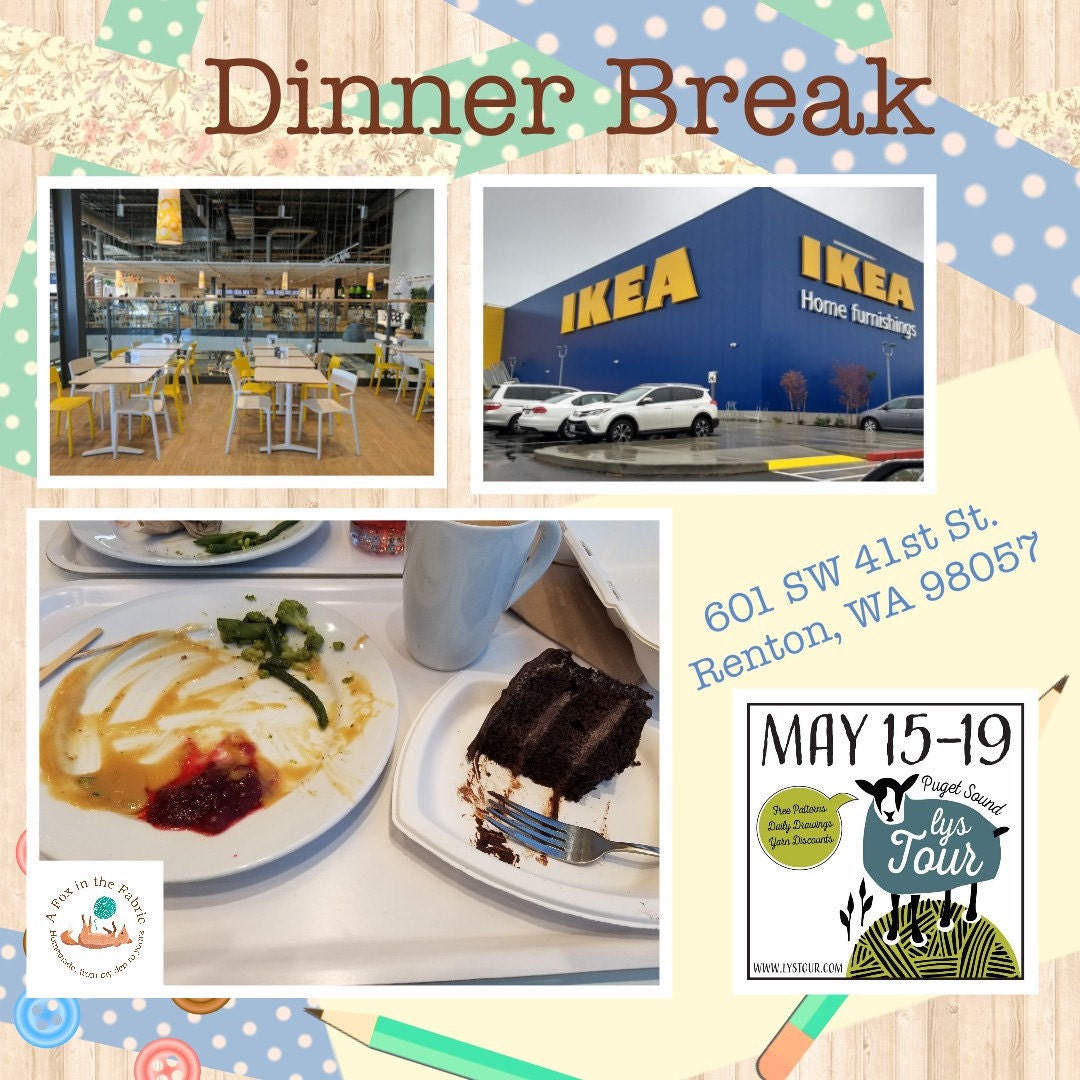 We waited until the end of the tour time before getting dinner, not due to a lack of amazing food places but because we wanted to maximize our tour time. Since IKEA was located on our route home (and let's face it their chocolate cake is so amazing) we decided to treat ourselves.
The Puget Sound LYS Tour is a really great event, you get to see so many amazing new yarns, patterns, people, techniques, and shops. It's a great way for the fiber community to come together and celebrate the yarn shops that sustain our craft. I can't wait until next year, and I hope that I get a chance to meet up with you on future tours. I also can't wait to use my new yarns and patterns!
I'll be doing a few more blog posts about the tour including info on the yarn I brought home and some things we found that were helpful.
Happy Hooking!